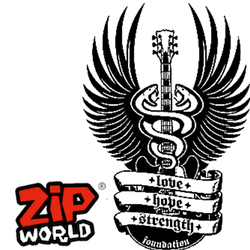 The Zip Line Challenge is part of a special day of celebration, which aims to raise money for local cancer services. During the day, before the Zip Challenge, you're invited to take part in the Snowdonia Rocks 20km Hike and after you've zipped you can enjoy some fantastic music and celebrations at the Zip Roc Music Festival.
Last year's day of celebrations at Zip World raised £25,000 for charity. £10,000 of the money raised has helped fund new equipment for our breast cancer services.
For more information and to purchase your tickets for the 2019 Zip Roc festival or the 20km Snowdonia Rocks hike, please visit the Zip World website.