Welsh surgeon whose daughter saved life after cardiac arrest stars alongside famous faces in new Rankin exhibition celebrating 75 years of NHS charities
An Orthopaedic Surgeon from Wales whose life was saved by his own daughter following a cardiac arrest is featuring alongside Monty Python legend Michael Palin and England footballer Jordan Henderson in a new exhibition from Rankin and NHS Charities Together, celebrating 75 years of NHS charities.
Raghunandan (Nandan) Kanvinde, 65, is one of 14 NHS staff, patients and volunteers starring in 'Love and Charity: A History of Giving in the NHS'– which celebrates the vital role charities have played throughout the health service's history, ahead of the NHS' 75th anniversary on 5th July. Led by NHS Charities Together, the national charity caring for the NHS, and internationally renowned photographer Rankin, all portraits will be displayed at Saatchi gallery in London from 31st May- 11th June.
Nandan has experienced both sides of the NHS, both as a lifelong employee and as a patient, after his own daughter saved his life following a cardiac arrest at the gym. His daughter – also a doctor – is trained in cardiopulmonary resuscitation (CPR), which meant he was able to be saved with chest compressions to keep blood moving through the body, before being transported to hospital and thankfully making a full recovery.
Nandan said: "I have worked in the NHS for over 35 years and have personally worked on a lot of cases where medical intervention was lifesaving. But one day the shoe was on the other foot and I had to be resuscitated. My daughter thankfully knew CPR – but I could easily not have been so lucky.
"The experience has changed my perspective on life altogether and I truly believe everybody should know CPR, because you never know when you might need it, or for who. If it's given correctly and early enough, a full recovery like mine is possible – which is why we're so fortunate that NHS charities are teaching these skills in our communities."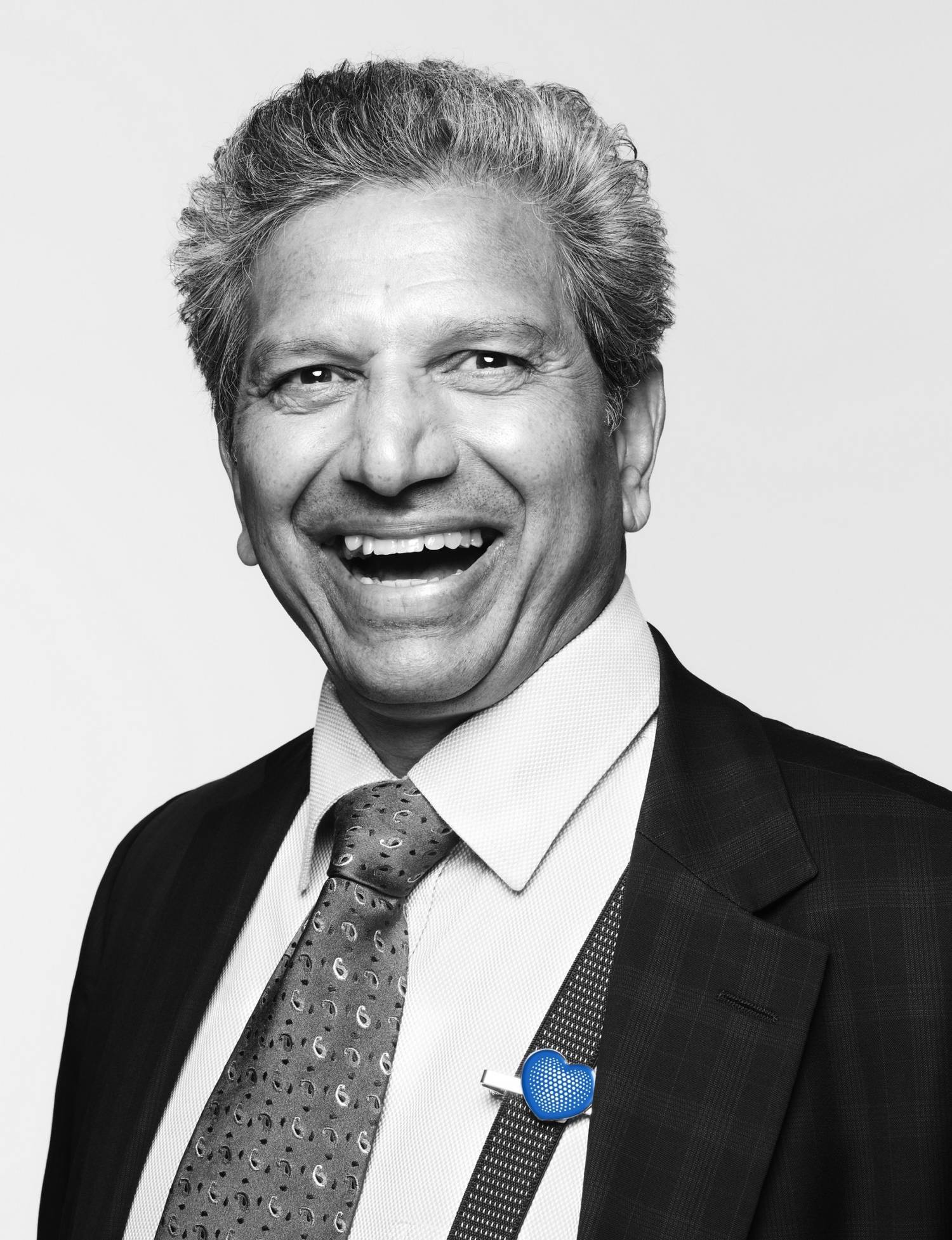 Since this life-altering experience, Nandan has become a strong advocate for community CPR training funded by the Betsi Cadwaladr University Health Board's charity, Awyr Las. The charity, through it 'Keep the Beats' Fund has recently funded over 40 Community Public Access Defibrillators (CPADs), devices that can deliver an electric shock to a casualty in cardiac arrest, and funding also goes towards maintaining this vital equipment. The charity has also funded a PADS Officer and training to educate the community on the use of CPADs and how to administer life-saving CPR when every second counts.
There are over 230 NHS charities in the UK, and together they help our health service go further than would be possible with government funding alone. They fund innovative research and pioneering new technologies, accommodation and support to make hospital feel less like hospital, and extra services so more of us can access better care.
Rankin, who has photographed the likes of the Queen, David Bowie, Madonna and Kate Moss, adds: "The thing I've learned from all these people is how much of a massive contribution NHS charities make to the national health service. You don't realise the scale of support that's out there – they fund research and new technologies, accommodation and support for patients, and extra services so more of us can access better care. I used to work in the NHS but honestly had no idea, and it really has been eye opening."
Ellie Orton OBE, Chief Executive at NHS Charities Together, said: "It's been incredibly inspiring meeting Nandan, and everyone involved in this project, and hearing their stories. 75 years after the NHS was founded, charity support has never been more important, and with your help we can continue to help the NHS for generations to come. On 5 July, you can support the charity that means the most to you and celebrate 75 years of the NHS by hosting an NHS Big Tea party. We hope some of these stories show the astonishing impact one person's generosity can have."
Kirsty Thomson at Awyr Las, said: "Nandan's story is incredible. Thanks to the support of many local people and organisations who have helped to fund CPR training and defibrillators, Awyr Las has been able to help ensure others who have an out of hospital cardiac arrest can go on to live full lives like Nandan. The support we receive makes a very real difference for people in our communities as well as patients in our hospitals."
'Love and Charity: A History of Giving in the NHS' will be exhibited at the Saatchi gallery in London from 31st May – 11th June 2023 and is free to the public.
To find out more information about how you can support Awyr Las: The North Wales NHS Charity, please click here.