Shooting Star patient cycles 75 miles for Star Boxes
In November 2021, William (Bill) Fowler was diagnosed with pancreatic cancer and has been receiving treatment on the Shooting star Unit at Wrexham Maelor Hospital since February 2022.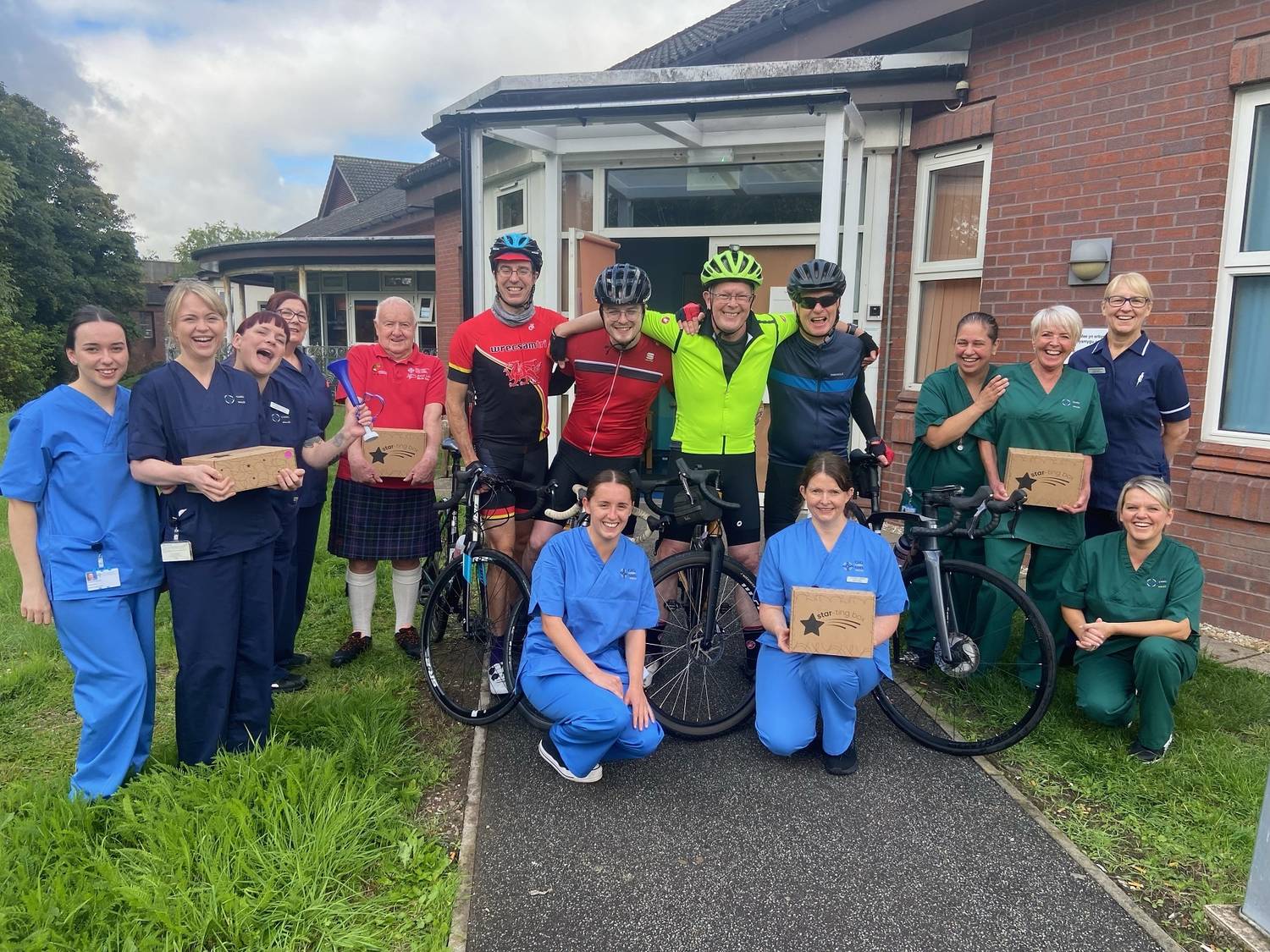 Since his diagnosis, Bill has been undergoing chemotherapy treatment on the unit and has seen how hard the staff work and how much goes into added extras on the unit.
Talking about his treatment on the Shooting Star Unit, Bill said: "The staff on the Shooting Star Unit are an amazing bunch of individuals – without exception, every single member of the team displays an exemplary level of professionalism along with kindness, empathy and, perhaps most important of all, a great sense of humour!
"Undergoing chemotherapy treatment will never be easy, but the team create an environment which is calm, reassuring and supportive."
To thank the staff who have supported him for over 18 months, Bill cycled 75 miles on Wednesday 2 August from the Shooting Star Unit to Ysbyty Glan Clwyd's North Wales Treatment Centre, and back again. He has already raised £880 which will go towards to the Star Box Fund, an initiative set up in 2022 to offer new chemotherapy patients a comfort box to help them through their treatment.
The Star Box Fund, set up by six volunteers, was created to offer new chemotherapy patients added extras as they begin their cancer treatment in Wrexham Maelor Hospital. Each box costs around £15 and includes information about their chemotherapy journey, socks, tissues, a mug, sweet treats, and so much more.
Bill has been training with his son, Ieuan, and wants to show cancer patients that it is still possible to live well following a cancer diagnosis and to hopefully continue doing things you enjoy.
Bill said: "Everyone's cancer journey will be different, but my experience is that little, positive things can have a huge impact on wellbeing on a day-to-day basis.
"It's a real privilege to be able to help such a great cause, and hopefully, at the same time, demonstrate that it can be possible to live a good life with a cancer diagnosis.
"I cannot thank the staff enough for all their help, kindness and support during the last 18 months – they put up with me on nearly a weekly basis which is no easy task!"
If you'd like to support Bill and the Star Box Fund at Wrexham Maelor Hospital, please click here.