Hospital Clinician from North Wales honoured by Prince and Princess of Wales at NHS Big Tea 75th anniversary party
A Critical Care Consultant from Wrexham Maelor Hospital, has been honoured by Their Royal Highnesses The Prince and Princess of Wales at a very special NHS Big Tea party, marking the 75th anniversary of the NHS (Wednesday 5th July).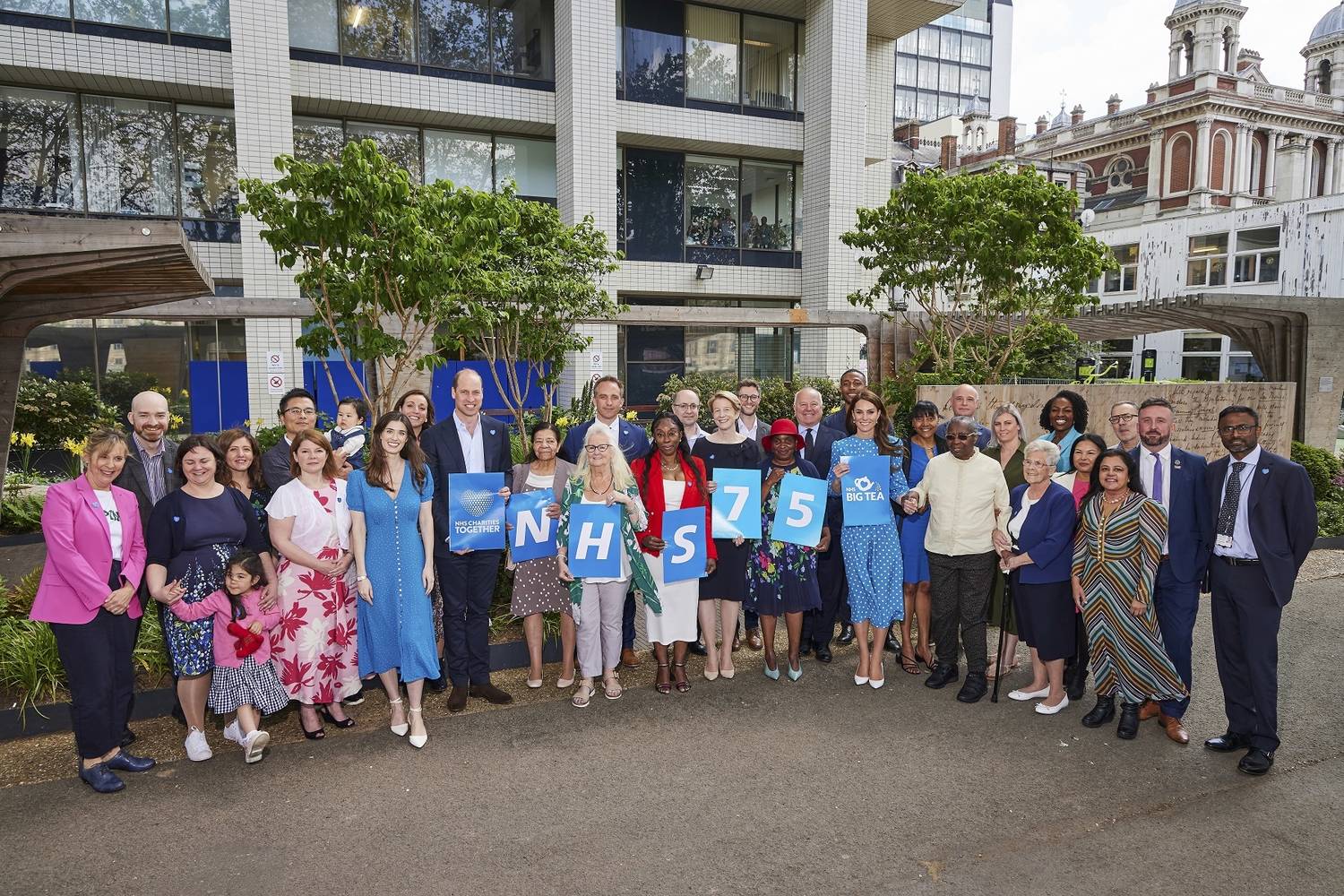 Andrew Campbell, 42, was invited thanks to his role of leading the Critical Care response at Wrexham Maelor Hospital during the Covid-19 pandemic – including expanding the unit to a new site, allowing his team to support huge numbers of patients struggling with the disease.
Hosted by NHS Charities Together – the national charity caring for the NHS, of which Their Royal Highnesses are Patrons – and television presenter Mel Giedroyc, the event was attended by members of the workforce and patients representing myriad achievements of the NHS and NHS charities over the last 75 years. It was held in the wellbeing garden of St Thomas' Hospital in London – a wellbeing initiative funded by Guy's and St Thomas' Charity.
Andrew comes from a family of doctors and is honest about how scary his experience during the pandemic was, as well as being physically and emotionally draining. But he has always been passionate about caring for the sickest of patients and making a difference. He says he was delighted by the surprise visit from The Prince and Princess, and had the opportunity to speak with them directly about his story, and the ongoing impact the pandemic was having on those working in Critical Care.
Andrew said: "I really didn't know what to expect when Their Royal Highnesses came in. We'd been discussing as a group who the guests might be as there were a couple of vacant chairs on our table. They showed a real interest in what we've all been through in our different areas and were so genuine about how they could help enact the change that we need in the NHS.
"Prince William was asking questions about the impact of the psychological stress that Covid and the pandemic had on the workforce. He understood that it wasn't so much the impact at the time, because we were doing the job and very task focused – the real effects are right now, as we're returning to normal and trying to work out what normal is. Now is when support is needed the most, and Prince William was very aware of that and wanted to explore that further.'
Other guests The Prince and Princess met with included Aneira Thomas, the first baby born on the NHS, to pioneers in research and those on the frontline tackling Covid-19. The guest list honoured staff past and present, including three generations of NHS workers from one family – inspired by grandmother and former nurse of nearly 50 years, Blanche Hines, who was part of the Windrush generation.
A surprise visit for those invited, The Prince and Princess even arrived early to help lay the tables and put finishing touches on a birthday cake. Their Royal Highnesses discussed current challenges and thanked staff for the work they continue to do, and – in the spirit of the tea party – even attempted to settle the long-standing scone debate regarding jam or cream first, with The Princess voting for jam, and Prince William preferring whatever is closest. They concluded their visit with a video message for the entire NHS: "Wishing everyone a very happy 75th birthday for the NHS. Thank you so much for all you do."
Ellie Orton OBE, Chief Executive of NHS Charities Together, said: "We want to say a huge thank you to our Royal Patrons, and everyone who's helped celebrate the 75th anniversary of our beloved NHS this year. As the national charity caring for the NHS, NHS Charities Together is here for anyone who wants to give something back to its people, who all give so much to us, and that extra support has never been so important. It includes providing staff psychologists, counselling, peer support training and so much more.
"It's not too late to arrange your own NHS Big Tea party and raise vital funds to support NHS charities – find out how you can get involved at nhscharitiestogether.co.uk."
Eurovision and former Great-British Bake Off presenter Mel Giedroyc was the host for the event on behalf of NHS Charities Together, and said: "The NHS is part of our DNA in this country so it was an utter privilege to be involved in this NHS Big Tea surprise to celebrate 75 years of the NHS and NHS charities. People were so delighted and it was just a quintessentially lovely, British day, celebrating our health service that we all love so much. I hope we will continue to love and take care of it for the next 750 years, because it's something truly precious – and what would we do without it? I have it to thank for my hernia operations!"
The Prince and Princess of Wales became Royal Patrons for NHS Charities Together in December 2020, during the height of the Covid-19 pandemic. Since then, their support for the charity has helped to shine a light on the incredible and ongoing contribution of the NHS workforce and the role of NHS charities in helping the NHS go further for everyone.
Now entering its sixth year, the NHS Big Tea brings the nation together to celebrate the NHS and raise funds to provide the extra support needed for staff, patients, and volunteers. All funds raised from the NHS Big Tea contribute to key projects supporting the incredible NHS workforce, the long-term recovery of the NHS following Covid-19, and projects improving care for patients and communities.