Procedure to diagnose lung disorders now available at Ysbyty Gwynedd
An essential investigation in the diagnosis and staging of lung cancer is now available for patients at Ysbyty Gwynedd.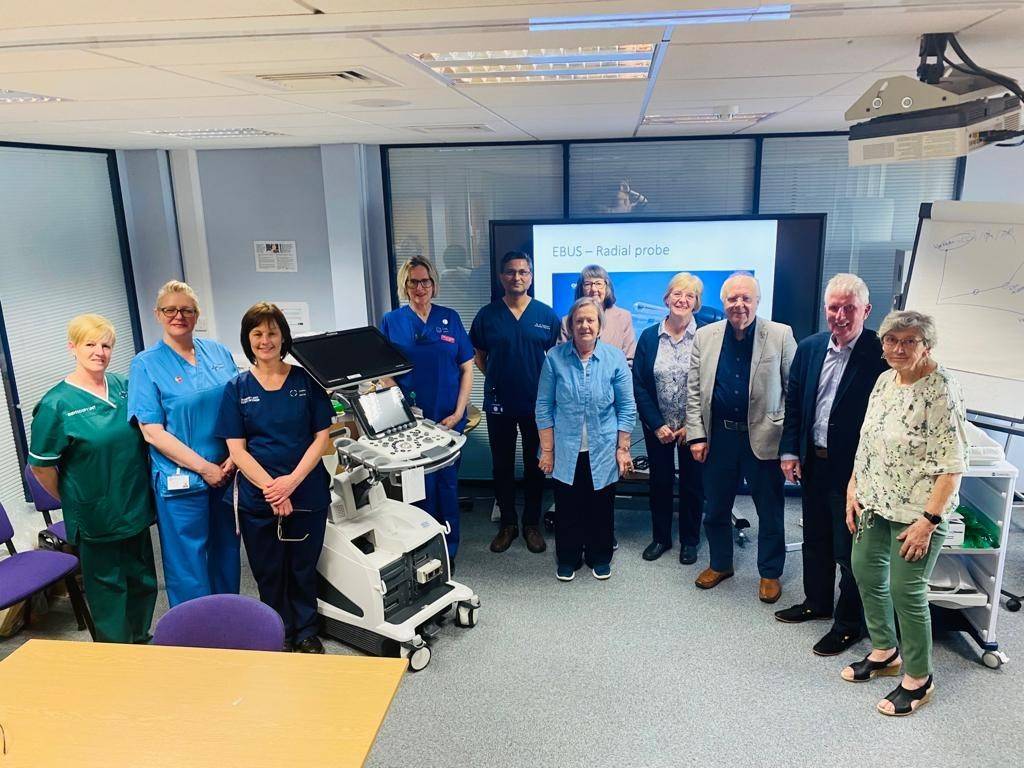 An EBUS (endobronchial ultrasound) bronchoscopy is a procedure used to diagnose different types of lung disorders, including inflammation, infection or cancer.
Performed by a doctor, EBUS bronchoscopy uses a flexible tube that goes through the mouth and into the windpipe and lungs. It is attached to a tiny ultrasound probe that allows the doctor to see the lungs and lymph glands which sit next to the airways.
The ultrasound probe produces sound waves that are converted into pictures by a computer. The doctor can then use a very fine needle to take the tissue sample from the right place. The sample is then sent away for more tests to help reach a diagnosis.
Until now, the EBUS service was only offered at Glan Clwyd Hospital and Wrexham Maelor Hospital meaning patients from Gwynedd and Anglesey would travel further for this procedure.
Consultant Respiratory Physician, Dr Ali Thahseen, who carries out the procedure at Ysbyty Gwynedd, said: "It is fantastic news that we can now offer this service for our patients in Ysbyty Gwynedd.
"Previously patients would have this procedure at our other two hospitals and some of our frail patients would find it difficult to travel such distances.
"Now we have this available in Bangor it avoids longer waiting times for our patients and also less travelling.
"The procedure is also done on the same day as their first outpatient appointment, which means they are not waiting for a further two or three weeks to be seen elsewhere."
Thanks to the Alaw Cancer and Haematology Unit Fundraising Group, a donation of over £60,000 will enable the team to purchase a second endoscope that will help them to see more patients.
Head of Charitable Partnerships and Charitable Funds for the Health Board, Kirsty Thomson, says:
"The committee and volunteers of the Alaw Fundraising Group have held numerous fundraising events and activities and run a pop-up charity shop in Holyhead to raise the money to fund the second endoscope. Representatives from the group were thrilled to meet Dr Thahseen recently to learn how the EBUS – and their donation – will make a significant difference for local patients and their families.
We are so fortunate to have the support of the group, who are now already starting to raise money for an additional radial-probe for the EBUS. On behalf of colleagues and our patients, I'd like to say a heartfelt thank you to everyone who has supported the Alaw Fundraising Group."
To help support more projects like this, please click here.